Obituary for Norman Francis Coffey Jr.
Norm (Buddy) died suddenly at his home Wednesday evening. He leaves his wife of 57 years, Marilyn; two daughters, Laura Coffey of Crownsville, MD and Julie McGowan of Pawtucket, RI; the three lights of his eyes, his grandchildren, Dylan, John and Tess, of Rhode Island; his sister and brother-in-law, Sherry and Greg Brox of Fremont, NH; and sister-in-law, Carol Zimmer of Norfolk, MA. He also leaves behind several cousins, and many nieces and nephews.

Buddy was born in Norwood, MA to Norman, Sr. and Mary Coffey of Dedham, MA. He resided in Dedham, and attended Boston Trade School in his teens before joining the Navy. He was stationed in Maryland for a short period, and upon leaving the Navy in 1957, started working at American Motors, where he eventually met Marilyn. Dating for 2 years, they married in 1960 and began their family in Norfolk. Shortly after, he worked as a Parts Manager at an automotive dealership, while also serving as an Auxiliary Officer in Norfolk. Norm then joined Chrysler Corporation in 1966 as a Service Manager, covering the northern New England area. As he climbed the corporate ladder, he moved from New Hampshire to Ohio in 1970, serving in several capacities and locations with Chrysler. He assumed the executive position of Zone Manager while in Cincinnati, and continued that role in Philadelphia, and then the Washington DC area. He retired from Chrysler in 1996 after 30 fulfilling years. Following his retirement, he served as a Reserve Officer for the Anne Arundel County Police Department, as well as volunteering in the start-up of the residential Hospice House while Marilyn was still working at Hospice of the Chesapeake. He also served on the Board of Truckin' 4 Troops from its incarnation in 2011.

Obviously, cars were a huge interest of his, with both classic Mopars and luxury Chryslers parked in the driveway during his tenure at Chrysler. He enjoyed watching and attending NASCAR races, and also befriended the local police departments in each town where he lived, often providing to them sundry items for their cruisers. On the subject of cars, one in particular stands out. During his travels through Indiana, Norm spotted a 1939 Plymouth 2-door. The wheels literally started turning – what a great car to restore! So, on a beautiful Spring Saturday, with a trailer in tow, Buddy set off to buy what he knew would be his pride and joy. Only problem was, over the years, while this car sat out behind a dilapidated barn, about a dozen chickens and twice as many mice had laid claim to this old bucket of rust. Though they had long since moved on, the car was a dusty, feathered mess, complete with an empty booze bottle. Once the car was loaded on the trailer, Buddy set out for home, with dust and feathers blowing out of the windows as he travelled down I-275. His arrival home was not an especially warm one, but he persisted with his dream of restoration. After months of diligent effort, however, the dream began to fade and eventually died. That '39 Plymouth was then sold to another man with a restoration dream, the only difference being, that old rust bucket did become a beautifully restored classic, worth many more dollars than it ever was before.

Other interests were books and wood -- he was a voracious reader, and anyone who knew him knew that woodworking was his true passion. "Dad's Shop" was one to be rivaled by anyone – he always had the exact tool needed for a project, or the perfect type of wood, or just the right type of bolt or nail needed. He enjoyed making items that he could give away to friends and family. He also made many toys for the "Toys for Tots" program, as well as making games & puzzles for wounded veterans recovering at Walter Reed Hospital, and sending others overseas to base camps in Kabul.

In both his work through Chrysler as well as at home, he touched a lot of people's lives. He was always willing to help a neighbor, and happily took on the responsibility of being the "go-to" guy for everyone. He enjoyed spending time with neighborhood kids of all ages, playing games and riding bikes with them. On many occasions they would stop by to see if "Mr. Bud" could come out to play. One specially challenged young man comes to mind – our friend Davey in Cincinnati. He would always ask "Mr. Foffey" to play imaginary baseball with him. Davey was allowed 3 strikes before he was out, but "Mr. Foffey" would be out after just 1 strike. And always, the game was conceded with a smile and a high five for Davey, the winner. Buddy still held close a special water bottle that Davey signed and gave him many years ago.

In Philadelphia, Norm received special commendation from Lee Iacocca, the then-CEO of Chrysler Corporation, and also from the West Chester Police Department for his assistance at the scene of a tragic car accident he came upon on his way to the office one morning.
In recent years, his love of food extended to the preparation of it as well as its consumption, as he would spend hours preparing pickles that he would proudly share with friends. And then there was the homemade pasta, just like his mother used to make, also proudly shared with friends at a Saturday night dinner. His most recent accomplishment was duplicating Ina Garten's "Irish Soda Bread", the first few times being supervised by Marilyn until he was comfortable doing it on his own, with only one flop that could not be consumed by humans, but the backyard squirrels certainly had no complaints.

Buddy was well-known for his unique and witty sense of humor; when bantering with friends, his favorite rebuttal was "keep your day job". He was larger than life to so many. His commitment and generosity to family, friends and work were the epitome of who he was.
To honor Buddy's generous nature, we respectfully request that in lieu of flowers, donations be made to Hospice of the Chesapeake https://www.hospicechesapeake.org, Truckin' 4 Troops http://truckin4troops.net/, Faces of Valor https://www.facesofvalorusa.org/, Anne Arundel County Public Library https://www.aacpl.net/, or your favorite charity.
A Celebration of Life service will be held on Saturday, 16 June 2018, at Lasting Tributes, 814 Bestgate Road, Annapolis MD 21401. Interment at Crownsville Veteran's Cemetery will take place at a later date.
To send flowers or a remembrance gift to the family of Norman Francis Coffey Jr., please visit our Tribute Store.
Previous Events
Memorial Service
Lasting Tributes Cremation & Funeral Care
814 Bestgate Road
Annapolis, MD 21401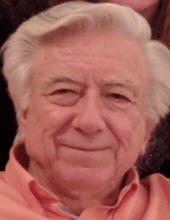 Thank you for sharing your
memory of Norman
Provide comfort by sending fresh
flowers from our local florist.
No thanks, please don't show me this again.